WHAT AN ADRENALINE RUSH FOR EVERYONE OVER THE WEEKEND AS WE ANTICIPATED AND HOPED FOR THE "W" OUTCOME FROM "MEAN" HAKEEM DAWODU ON SATURDAY NIGHT AT UFC 253 HALF-A-WORLD-AWAY IN ABU DHABI!
The team at Champion's Creed was extremely supportive and excited to finally see Hakeem fight and win in the middle of a pandemic far away at a serene yet vicious place, Abu Dhabi's UFC Island.
It has been a rollercoaster ride for us, finishing it with "Mean" Hakeem's dominant performance against a very tough and experienced Zubaira Tukhugov.
With Champion's Creed being closed for months, we are so grateful for our amazing members who stuck by us during this time.
The reopening in June was desperately needed for our community — people needed to get back out in the world, enjoy martial arts training again, and return to a better state of mind.
This reopening allowed our close-knit members at Champion's Creed to finally start looking towards the future, planning their goals and helping us now achieve this huge accomplishment.
Hakeem's win is not just a major win for him — it is a win for the entire Champion's Creed Team, Staff and Members.
We all needed to see some positive things happening and something to push us all forward.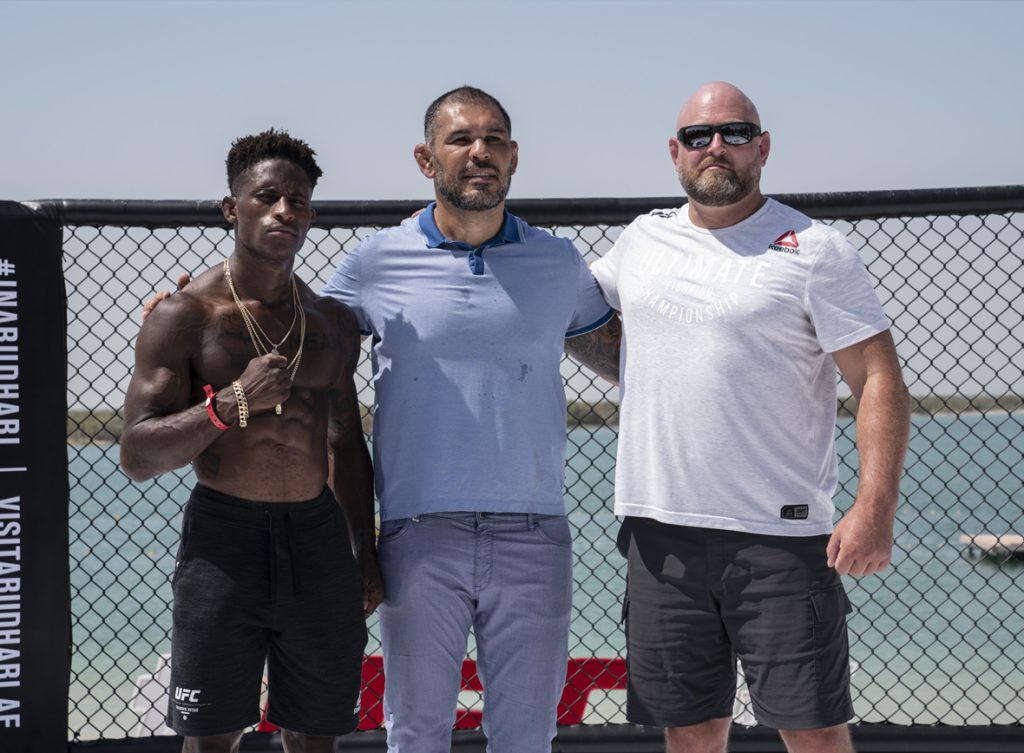 Coach Brian Bird had the opportunity to experience his own world-class experience travelling to UFC Island, during a pandemic, to coach his fighter.
Not knowing what to expect when it all began, he soon became very aware of the unique experience he was going to have as he made his way to the UFC Island.
He was picked up in his own personal limo the moment he arrived at his layover in Las Vegas and went through multiple COVID tests and quarantines during his travels.
The Mean Hakeem Team arrived one week in advance
This week included the usual fight week preparation with lots of media responsibilities as well as training and cutting weight.
This was Hakeem's first chance to be on the main card shown on Pay-per-view. He was looking stronger than ever mentally and physically with only one goal in mind: to get in the octagon, perform and take home the win.
We have truly come out of the COVID-19 shutdown more passionate and stronger than ever.
This fight could not have happened if it wasn't for the support and dedication from all the members and staff at Champion's Creed.
We want to take this opportunity to thank our members once again because without you, these world-class experiences cannot happen.
Martial arts is a team sport, and we look forward to continuing to help our members achieve their personal goals through Champion's Creed's world-class martial arts experience.
UNLOCKING YOUR POTENTIAL BEGINS HERE